You will be presented with the Get Started page in the Datahash dashboard, as shown: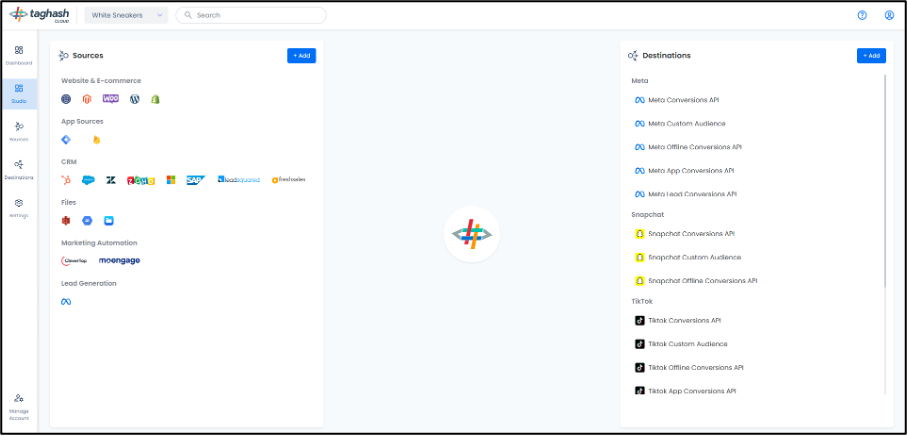 Sources:
Add Source: Set up a data source by clicking on Add source CTA or either one of the icons available in the Source Card
For more information on sources in Datahash, refer to the Sources guide.
Choose a data source from the list of available sources. Datahash supports the following types of sources:

Website & Ecommerce: Collect your event data from website or ecommerce provider websites, then route it to a wide array of customer tools and data warehouses.

CRMs: Integrate different industry leading CRMs across different entities like Offline events, Custom Audience, Lead management and route it to the desired destinations to multiple use cases in a single go.

Lead Generation Tools: Capture your leads event form data from multiple platforms and send it across to multiple customer tools, CRMs and data warehouses.

Files and Data Warehouses
Destinations:
Then, add a destination by clicking on the Add Destination button and selecting Create new destination.
From the list of destinations, select the destination you want to configure for the source. Datahash currently supports different use cases namely Custom Audience, Conversion API, Offline Events Conversion API including Cloud destinations and Warehouse destinations.
Configure the destination by entering the relevant connection settings.
For more information on sources in Datahash, refer to the Destinations guide.